The brief descriptions below are designed to familiarize you with our staff's training, professional credentials and work experience.
Loreto "Joe" R. Sicam. Jr., DMD
Dr. Loreto Sicam, Jr. graduated with a Doctor of Dental Medicine from the University of the East, Philippines in 1985. He has been practicing general dentistry, providing dental care and maintaining the community's healthy smiles since 1991 in his San Leandro office. With his gentle hands and almost painless approach, his practice has grown steadily from patient referrals, treating and retaining the whole family. In addition to general dentistry, Dr. Sicam has recently expanded his services to include dental implant and its restorations; and placement of fixed and removable implant prosthodontics. Outside of the office you will find him bowling, playing golf and watching movies. When you come for your dental visit, he loves to share jokes and hear corny ones.
Rose V. Sicam, Office Manager
Rose is one of the pioneers who started the practice with Dr. Sicam in 1991. She oversees all office operations including both front and back end processes: compliance practices, new concept integration, employment development, human resources, and marketing. Proudly an accomplished mother who raised 3 beautiful daughters and has her first grandson on the way. She loves spending her free time tidying up, bowling, playing golf, reading or watching movies.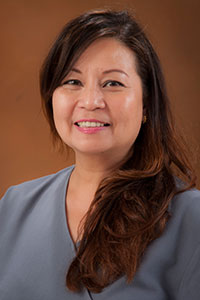 Eva Grace "Gracie" Herrero, Office Secretary
Gracie is our scheduling coordinator and insurance benefits expert who joined the practice in 2001. She is the charming voice on the other end of the phone ensuring that you never forget an appointment. Her superb customer service brings a warm and friendly feel to the office and makes coming to see the dentist a pleasant experience. She is the office dancing queen and an insider for the latest diet and exercise fads.
Francis "Jong" Herrero, RDA
Francis graduated from Centro Escolar University, College of Dentistry in the Philippines. He had his own dental practice until he moved to the United States and joined Dr. Sicam's team. He is an adventurist and enjoys hiking, biking, camping, working out, travelling the world and has a weakness for chocolate.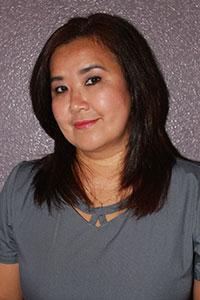 Eloisa "Loi" Viloria, RDA
Loi is the lead Registered Dental Assistant for the clinic and has been working with Dr. Sicam since 1994. She graduated from Centro Escolar University, College of Dentistry, in Manilla, Philippines. Her kind soft voice and patient demeanor makes every visit quick, relaxed and painless. Outside of the office, Loi enjoys watching her daughter in Tahitian dance competitions and looks forward to seeing her become a nurse. She also enjoys watching movies and listening to music.